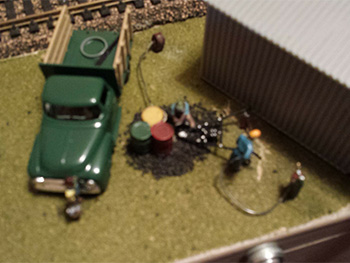 Model Railroaders here is a fun project for you!
Created by Niel Bech this Welding Scene fetaures a PRICOM Dream Player LITE and a Milli-Amp.
The scene contains an LED Light sensor buried in the cinders of the scene, when you pass your hand over the sensor the Dream Player Lite triggers 1 of 4 randomly selected welding sound effects and The Dream Player's control output triggers a chip that has a blue and a white LED, when illuminated this chip creates a visual effect that looks like a welding arch. This gives you both an audio and a visual element in the scene.